Planning an event or celebration is a big responsibility. It takes a lot of work to get everything done on time and not forget anything. Fortunately, providing your guests with great tasting food that looks good need not be difficult. If you use the Hog Roast Hereford team, you are guaranteed to send everyone home happy and full.
We provide a tailored service to each customer. Over the past decade our Hog Roast Hereford organisers have provided impressive food for all kinds of events. We have catered for small family gatherings, large weddings and big corporate events.
Our chefs are all professionally trained and have years of experience. They will arrive at your event early to make sure that all of the food is cooked to perfection and they will present it all attractively.
A Hog Roast to Impress
Regardless of the type of event you are planning a hog roast will always impress. A huge hog turning on a spit looks amazing and smells great. Once cooked, the hog will feed a lot of people. Couple it with a few of our special party platters and you can provide your guests with a wonderful feast.
Once the food has been served and eaten, our team will re-plate the leftover meat and platters, giving you the option of serving any leftovers as a cold
buffet later in the evening. Everything we cook is made using fresh, locally sourced ingredients.
Everybody's tastes are catered for. If you prefer we can provide roasted lamb, beef or gammon as well as plates of Chinese, Indonesian, Mexican, Mediterranean and Thai party foods. We even do desserts.
By hiring us you can be assured that your guests will enjoy an exceptional standard of food and a five star catering experience. All you have to do is provide the hungry guests and the venue – we will take care of all the food for you with our delicious slow cooked hog roast. Call Hog Roast Hereford today – we would be delighted to offer our outstanding catering services for your next event.
Hog Roast Hereford Event Catering
If you are keen to host your very own event in the Hereford area we would be love to get involved and provide you with our delicious slow cooked food. Our team here at Hog Roast Hereford are admirably experienced in catering for events of all manors. Whether you are getting married, hosting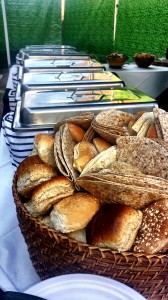 a celebration or even throwing a surprise birthday party for a loved one, our tasty food, professional staff and exceptional standards could be perfect for you.
We are dedicated to perfecting the art of spit roasting and it is the foundation of our successful catering business. Hog roasting is our business passion. If you want an experienced, knowledgeable and professional team to provide the food for your event our team at Hog Roast Hereford would be more than happy to help.
Cook a Hog Roast for Your Guests
In addition, we offer a hog roast leasing service. We provide the machine, the hog and the gas. Afterwards we collect the machine and take care of cleaning it and disposing of the carcass.
A hog roast is an exceptionally economical way to provide spectacular food for your guests. We can provide a smaller menu for those with fewer guests to feed. Please, give us a call to discuss our menus and get a personal quote.